Do you fight with your dishwasher? Spots, dots and cloudy haze on your dishes drive you crazy?
My dishwasher repair man gave me the Best dishwasher tip ever!
I was pretty certain because I live in the country and have well water, the white haze that covered ALL my dishes would forever plague me! If you live in an area where you have soft water then you probably have no idea what I'm talking about. We have really hard water and rusty water, I tried numerous combinations of detergents and rinse agents nothing worked really well. I settled with using a green detergent from my local grocery store, a teaspoon full of Calgon water softening powder and a 1/4 cup of white vinegar in every load. That seem to work the best with mediocre results.
 My new dishwasher kept making funny noises and had to call the repair person several times over a period of time. Every time he came I would complain about what horrible job my dishwasher was doing. He suggested several things, I would nod my head, yes doing all those things. Then he would mention using some citric acid in each load, I just dismissed it every time he said it. I'm not sure why I  dismissed it, I guess I thought it sounded weird and improbable. So I finally decided to try it, what was the worst thing that could happen? It wouldn't work?   To my surprise, it worked really well! I had to use it a few times to notice a big difference, but that's because our dishes and dishwasher were so caked with calcium. It was my hallelujah dishwasher moment! I have clean shiny dishes, not sort of shiny but really shiny and no spots!
So what is citric acid?
 Citric acid is a white crystallized powder, (sometimes called sour salt) derived from citrus fruit and used mainly as a natural food preservative according to  Wikipedia. I found it at my local heath food store in the bulk food section. Two big scoops cost me $6-7 and last about 2 months, we do at least one load if not two a day. I use about 1 level teaspoon divided between each soap compartments, add the soap packet and turn it on the normal cycle. Clean spot free dishes every time, well unless my kids or husband overload the dishwasher and block off the sprayers. 😉
We have had great success with citric acid, also passed it along to my mother and mother-in-law. They both have said it's worked for them. If you have spotty or cloudy dishes give it a try!
I have also heard of using Tang or lemon Kool-Aid powders, one packet per load. Both Tang and Kool-Aid have citric acid in them, I assume that's why they would work too. I have never tried it, might be a little more costly but worth a try if you can't find citric acid.
Other things we've tried that have helped:
1/4 cup White vinegar at the start of cycle
Add 1 teaspoon Calgon water softening powder (less if you have softer water)
Finnish Dishwasher cleaner (blue liquid one) once a month keeps everything squeaky clean.
CLR cleaner if you have lots of calcium or rust build up, run through a few times without dishes.
Trouble finding Citric Acid click Here.
Do you have any tips for cloudy or spotty dishes?
I'm Linking to: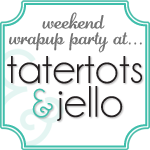 HAPPY DISHWASHING!